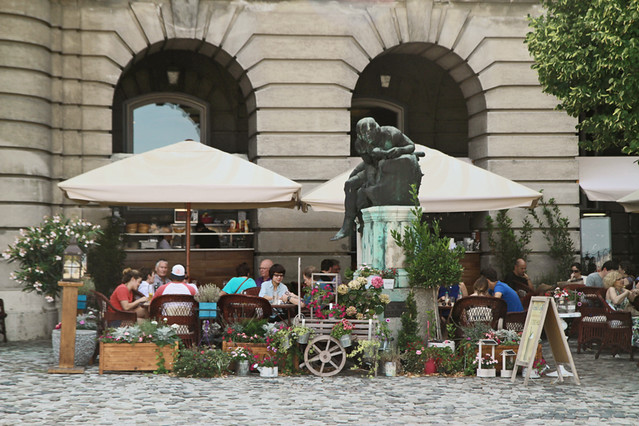 Budapest, would be one of the unexpectedly beautiful cities we've visited – unassuming but totally enchanting, clean and full of surprises. Above photo shows Pest, the eastern, flat part comprising the Hungarian capital. This was shot from the western side or Buda – the other part, when we went up to a castle on a hill. But, before the walking and going up, hubby and I were searching for a lovely spot to have breakfast in. We haven't had anything for the day and it was already 10!
Truth be told, it was hubby who did the research – landmarks to see, which station to get off on and all those little details. We enjoy going about any city even though we just ride the trains, trams and buses, makes for additional adventure if we take the wrong route, lol. We boarded off the station Oktogon – I totally forgot now why. 😀 It must be the nearest to some place hubby wanted to see first (?).
As we walked, we saw what seemed to be a newly opened restaurant, Muvész Café & Lounge, all cozy and very inviting, at the heart of Budapest's 6th district. It may have just opened for the day so we were the first customers. I really like the interior and atmosphere, refreshing and easy.
The display had sandwiches, cakes and other pastry but the menu offers breakfast selections and bigger meals too. The joint is different from the famous Müvész Kávéház, a meeting place for artists and bohemians and is still a popular spot for residents of Budapest and their visitors, that one can be found a few steps away. Well, this branch was at #46, the other at #29 – two streets away.
While waiting for food, we got 'connected' a bit, thanks to the free wifi. We were served bread and our plates of ham and eggs served with some greens and sweet tomatoes. Hubby's cappuccino came with a cute bunny latte art on it and my melange was served properly hot. I don't usually drink coffee but I had a cup that time and ironically got Vienna's specialty while outside the city. I've yet to try it at one of Vienna's famous coffee houses.
It was a lovely meal all in all, I felt ready for walking as I stood up, hah! We surprisingly paid about 3.875 HUF (Hungarian Forint) or 13.57 € /18$ only. What a steal! So off we go, walking and taking the trains in between, shooting like a pro and how tourists should! 😛 I felt safe walking around because Budapest is so much like Vienna in many ways and not to wonder because during the Austro-Hungarian empire under the same ruler, the architecture and culture of both cities flourished together.
We went up the Buda castle via the lift servicing tourists…it was only later on that we find out that there's actually a bus going up…no extra fare. 😀 From there, one can see the Pest side and take photos of the picturesque Danube along with the famous bridges connecting the two sides of Budapest. Buda castle is a massive complex on top of Castle hill and is part of the Budapest World Heritage site. It was quite hot that day too so when I saw a smoothie-stand – I asked for a large cup! So I could sit a bit too while drowning in it – walking on cobblestones is nice but it gets tiring too. I unfortunately can't remember the spot where we had it. It's actually a restaurant and the stand is an addition. It's high up the Buda Castle Quarter just before the statue of Prince Eugene of Savoy.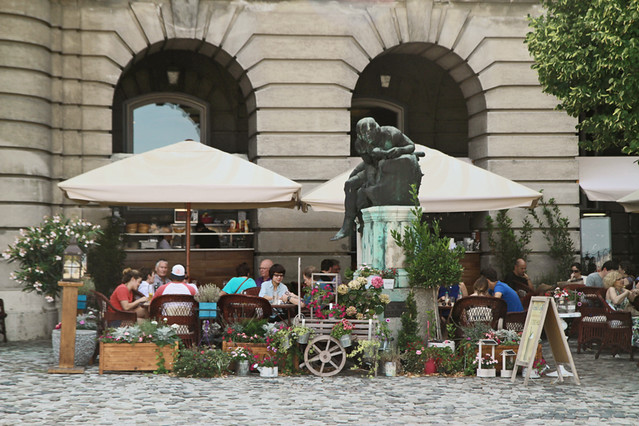 The view in front of me is not as lovely as the view on my right…lol. We stayed a bit more but didn't really have the appetite to eat a proper meal. We went around the castle and around Budapest but I'll save those stories and photos for another post. Tata!
—
Müvész Café & Lounge
Andrássy út 46, Budapest, Hungary, 1061
+36 1 269 0493
—
Food joint near Buda Castle Quarter
1014 Budapest, Szent György tér 2, Hungary
(Visited 5 times, 1 visits today)