Tuscany has long attracted holidaymakers, lured as they are to the region's world-famous cities such as Florence, Siena and Pisa. Tuscany's incredible scenery and fascinating history also explains its popularity with tourists as, of course, does its wine and food. However, it's not necessarily immediately apparent what attractions there are for families to enjoy during their Tuscany villa holiday.
It goes without saying that many will be happy to simply relax by the pool at their Tuscany villa. But, if you're wanting to get out and about and enjoy some sightseeing during your villa holiday in Tuscany, then here is our guide to the top 10 family activities to enjoy whilst on your holiday.
Find out more about the world's most famous puppet
C'era una volta- Un re! – diranno subito i miei piccoli lettori.
No ragazzi, avete sbagliato: c'era una volta un pezzo di legno.
Once Upon a Time – A king! – My little readers will say immediately.
No children, you are wrong: there was once a piece of wood.
– Le avventure di Pinocchio – Carlo Collodi
What child isn't familiar with Pinocchio, the puppet whose nose grew every time he told a lie?!! Well, the town of Collodi in Tuscany is home to a park that revolves around the puppet created by Geppetto the carpenter. Collodi was the home of the book's author, Carlo Lorenzini, hence its location here. Interestingly, Collodi is also home to the world's biggest statue of Pinocchio. Standing at over 16 metres tall, you can't miss it! Ideal for younger children, families visiting the park will also get a chance to meet the characters from the book, as well as enjoy some vintage rides, get stuck into some craft activities or watch a puppet show.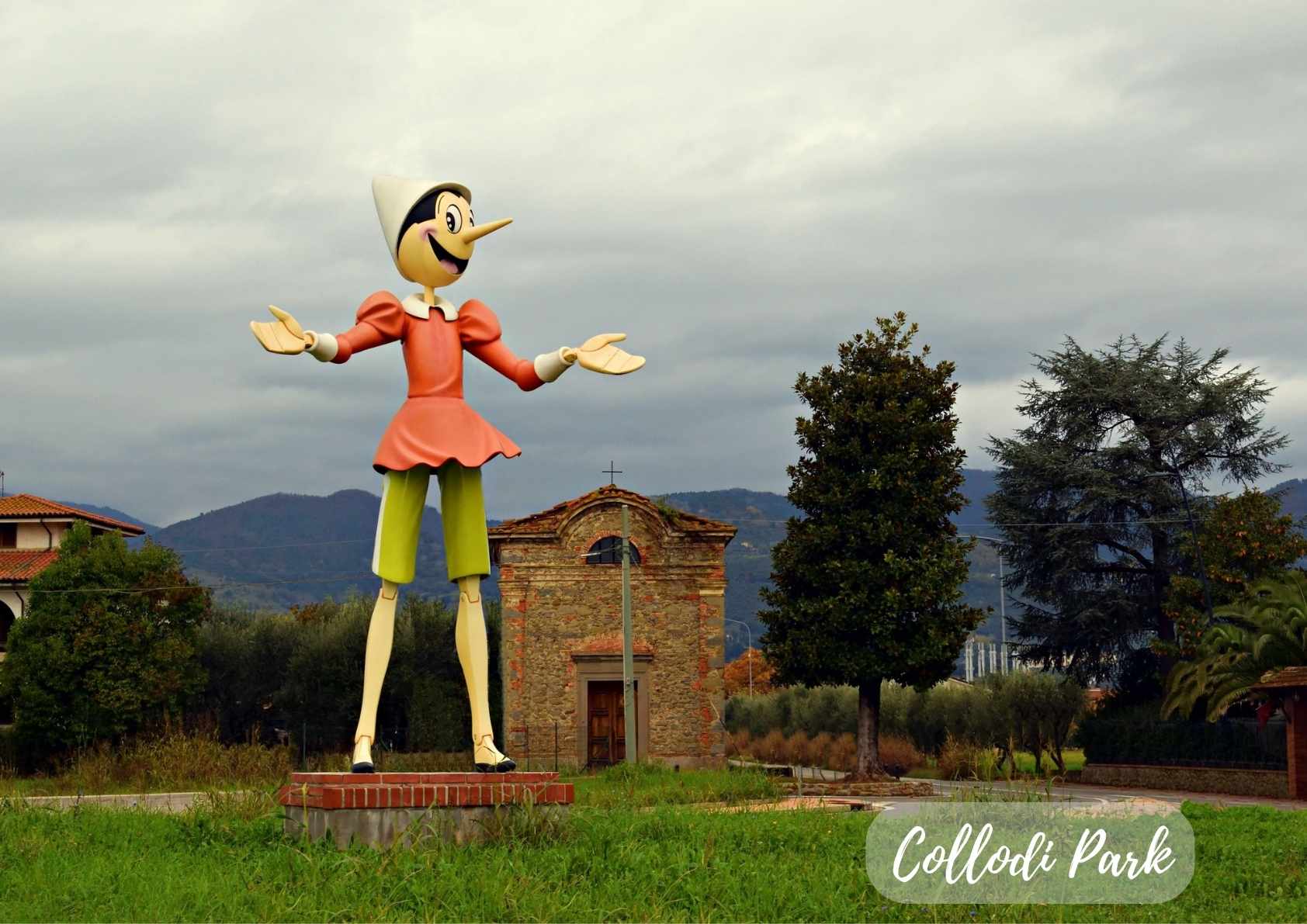 Enjoy a cookery class
A cookery class is the perfect activity for all the family to enjoy on a Tuscany villa holiday.  Tuscany is renowned for the diversity of its cuisine but at the very heart of all its recipes is a simple love of fresh, locally grown, delicious produce. Learn how to make pasta or pizza or even gelato and then sit down to enjoy the fruits of your labours together! Classes can be tailored so that they're suitable for all ages.
Prop up Tuscany's Leaning Tower
There are few historic monuments that will have as much family appeal as the Leaning Tower of Pisa. In actual fact, the tower is just one of several attractions to be found in the Campo dei Miracoli in Pisa but it's definitely the one that most appeals to children! See if you can snap the obligatory photo holding up the tower. Or, instead, you could opt to climb the 300 steps to the top to admire the view.
Enjoy the thrill of the ride!
Tuscany even boasts its own amusement park – Cavallino Matto – which has a host of rides to suit all children, whatever their age including plenty of rollercoasters that will test the bravery of even the most fearless teenagers! Incidentally, if you prefer more of a splash on your rides, then Tuscany also has a number of water parks that will appeal to families too.
Spend the day at the beach
Tuscany doesn't always conjure up images of beaches for overseas holidaymakers who tend to think more of its rural landscape than its coastal one. But, in fact, Tuscany has some great family friendly beaches to enjoy during your Tuscany villa holiday. These range from the upmarket Forte dei Marmi in the north to the Maremma coastline further south.
Go dolphin and whale watching
If you're heading to the Tuscan coast, then it's worth heading that little bit further into the waters around the Versilia coastline. Here you'll find a school of bottlenose dolphins and it's possible to head out to see them in their natural habitat on board one of the catamarans that belong to the CeTuS association. This group are responsible for monitoring and researching the dolphins and whales in this part of this world.
Explore Florence
Large cities aren't always conducive to happy family holidays! However, we think Florence has plenty to keep everyone in the family entertained. Even some of the more 'grown up' attractions such as the Uffizi Gallery can be made family friendly by opting for a tailored tour. As artists and art enthusiasts, Florence is a favorite for us. Glad though we didn't experience Stendhal syndrome, as we would have lost precious time exploring if we would have spend it on a hospital.
There are plenty of green spaces children will love in Florence to break up the sightseeing, among them the Boboli Gardens, the Giardino delle Rose and the Giardino dell' Iris. And we would have loved following the trail of Robert Langdon too!
When the weather gets hot, get a gelato of every kind as well. It's Italy, they have the best and most variation of flavors!
When exploring Florence, we recommend that you do it for 5 days or more, but one day is doable too, check out this One Day in Florence guide for a wonderful experience.
Check out the wildlife at the zoo
One of Italy's best zoos is the one at Pistoia in Tuscany. It's home to more than 400 animals including giraffes, polar bears, lions, tigers and elephants. Rest assured, it's a zoo that is absolutely passionate about conversation and education. 
Shop 'til you drop!
Not all of our top 10 list will appeal to families with older teens but we reckon that this will definitely hit the mark. Tuscany is home to a number of outlet malls including the Valdichiani outlet and The Mall. The latter is situated just over half an hour south west of Florence and will have all the high-end brands your teenagers could crave from Armani to Burberry and from Alexander McQueen to Balenciaga, all at a fraction of normal high street prices. So if you fancy hitting the shops for really good items or souvenirs on your Tuscany villa holiday, then this is definitely the place to visit!
Go Truffle hunting
We think truffle hunting is a Tuscan experience that all the family can enjoy on their Tuscany villa holiday. Children will love heading out with the truffle hunter and his dogs who chase after the scent of the truffles, digging them up when they find them. Whilst the taste of the truffle may be an acquired taste for some.
Afterwards, you can try the recipes you learned and incorporate the truffles in them, Tagliatelle al Tartufo for one.
Family Activities to Enjoy on a Tuscany Villa Holiday
As a family drawn to the arts, we love Tuscany for its history and influence, it is after all the birthplace of the renaissance. Even walking around looking at art drawn by street artists on the pavement is fun and interesting for us. But we also enjoy just drinking in the atmosphere, the scenery, and the overall landscape.
And as a vacation is meant for relaxation, staying in at the Villa is ideal too. There's surely a lot more fun family activities to enjoy on a Tuscany Villa Holiday, what's your favourite?
Tempted to stay in a Tuscany villa for yourself? Then check out the Tuscany villa holidays available from Tuscany villa rental specialists, Bookings For You. Even better, use our code OURCITYTRAVELS when booking your dream holiday with Bookings For You and you'll receive an exclusive discount on your stay.
| | |
| --- | --- |
| Pin This! (Family Activities to Enjoy on a Tuscany Villa Holiday) | Pin This! (Family Activities to Enjoy on a Tuscany Villa Holiday) |
(Visited 19 times, 1 visits today)