Visiting and exploring a city during different seasons of the year can offer unique and diverse experiences, each with its own charm and attractions.  Different seasons bring about changes in weather and landscapes, which can significantly alter the city's appearance and atmosphere. For example, a city might look stunning with autumn foliage, magical during winter with snow-covered streets, vibrant in spring with blooming flowers, or lively in summer with outdoor events and activities.
Different seasons provide varying opportunities for outdoor activities. In summer, you can enjoy hiking, biking, or water sports, while winter might offer skiing, ice skating, or snowboarding. Exploring a city during different seasons allows you to take advantage of these diverse activities.The popularity of a city often varies depending on the season. Visiting during the off-peak season can mean fewer crowds and more affordable accommodation and attractions. Conversely, peak seasons might have more energy and excitement but could be pricier and busier.
Local cuisine can also be influenced by the changing seasons. Certain dishes and ingredients might be more readily available or taste better during specific times of the year. Exploring the city's culinary scene during different seasons can lead to delightful culinary experiences. Seeing how locals adapt to and embrace the different seasons can offer insight into their daily lives. From how they dress to their preferred activities, each season can bring out different facets of a city's culture.
If you're a photography enthusiast, each season offers a chance to capture the city's beauty in various ways. Different lighting conditions and natural elements can create distinct and striking images. Returning to a city you've previously visited during a different season can make the experience feel entirely new and fresh. You'll discover facets of the city that you might have missed during your previous visit.
All that being said, we think Salzburg is one beautiful city no matter the season. Salzburg, Austria's fourth-largest city, is renowned for its picturesque charm, historical architecture, and cultural heritage. And its charm remains whatever time of the year you decide to visit.
Spring
Spring is an excellent time to explore this enchanting city, as the weather starts to warm up, and the surrounding landscapes burst into vibrant colors. Here are some recommendations for your trip to Salzburg in spring:
Mirabell Palace and Gardens: Begin your visit with a stroll through the beautiful Mirabell Gardens. The gardens are meticulously landscaped with flowerbeds, statues, and fountains, making it a perfect spot for a leisurely walk or a relaxing picnic.
Old Town (Altstadt): The historic Old Town of Salzburg is a UNESCO World Heritage Site, featuring baroque architecture and charming narrow streets. Explore its hidden alleys, visit Mozart's birthplace, and take in the atmosphere of this timeless city.
Hohensalzburg Fortress: Perched atop a hill, the Hohensalzburg Fortress offers stunning panoramic views of Salzburg and the surrounding countryside. Take the funicular or hike up to the fortress to enjoy the vistas and explore the castle's history.
Salzach River Cruise: Take a boat cruise along the Salzach River to appreciate the city's scenic beauty from a different perspective. Spring offers pleasant weather for such a relaxing experience.
Sound of Music Tour: If you're a fan of the classic movie "The Sound of Music," consider taking a guided tour to visit the filming locations and relive some iconic scenes.
Markets: If your visit coincides with the start of spring week, you'll have the opportunity to experience the festive markets that offer a variety of local crafts, delicious treats, and traditional activities.
Salzburg Marionette Theater: Don't miss the chance to watch a marionette performance, a unique and captivating art form that Salzburg is known for.
Day Trips: Salzburg is surrounded by beautiful countryside and charming villages. Consider taking day trips to places like Hallstatt, Wolfgangsee, Berchtesgaden, or the Salzkammergut region to explore the natural beauty of the Austrian Alps.
Coffeehouses and Culinary Delights: Take some time to relax at one of Salzburg's traditional coffeehouses and indulge in delicious Austrian pastries. Also, don't forget to try local specialties like schnitzel and apple strudel at authentic restaurants.
Remember to check the local events and festivals happening during your visit, as Salzburg often hosts various cultural events, concerts, and exhibitions throughout the year.
Finally, as with any trip, it's essential to dress in layers during spring as the weather can be unpredictable, with occasional showers and cool mornings, but also mild and sunny afternoons.
Summer
Visiting Salzburg in summer is a delightful experience. The city comes alive with a vibrant atmosphere, outdoor events, and lush greenery. With longer days and pleasant weather, there are plenty of activities to enjoy. Here are some highlights and recommendations for your summer trip to Salzburg:
Festivals and Events: Salzburg is renowned for its summer festivals, particularly the Salzburg Festival, which takes place from late July to the end of August. This prestigious event celebrates music, opera, and theater, attracting performers and art enthusiasts from all over the world. Make sure to book tickets in advance if you wish to attend any of the festival performances.
Summer Concerts: In addition to the Salzburg Festival, there are many other concerts and musical events happening throughout the city during the summer months. Check local listings to catch performances ranging from classical to contemporary music.
Salzach River Activities: Take advantage of the warm weather by enjoying various activities along the Salzach River. You can go for a relaxing boat cruise, rent a paddleboat, or simply walk along the riverbanks to soak in the scenic views.
Mirabell Palace and Gardens: The Mirabell Gardens are even more enchanting during the summer, with an abundance of blooming flowers and well-manicured lawns. It's a perfect spot to enjoy a leisurely afternoon or take beautiful photographs.
Untersberg Cable Car: Take a cable car ride to the top of Untersberg Mountain, which offers spectacular panoramas of Salzburg and the surrounding Alps. You can also explore hiking trails for different levels of difficulty if you're an outdoor enthusiast.
Hellbrunn Palace and Trick Fountains: Explore Hellbrunn Palace, known for its delightful water games and trick fountains that spray water unexpectedly. It's a fun and refreshing experience, especially on hot summer days.
Outdoor Cafés and Beer Gardens: Salzburg's streets are lined with charming outdoor cafés and beer gardens where you can enjoy a coffee or a refreshing Austrian beer while basking in the summer ambiance.
Salzburg Zoo: If you're traveling with family or simply love animals, visit the Salzburg Zoo, home to a diverse range of species, including some native to the Alpine region.
Day Trips: Consider taking day trips to nearby lakes, such as Wolfgangsee or Fuschlsee, for swimming, boating, and relaxation. The picturesque town of Hallstatt is also a popular destination worth exploring.
Remember to pack light and comfortable clothing for the warm temperatures, and don't forget your sunglasses, sunscreen, and a hat to stay protected from the sun. Salzburg in summer offers a wealth of cultural experiences and outdoor activities that will make your trip memorable.
Autumn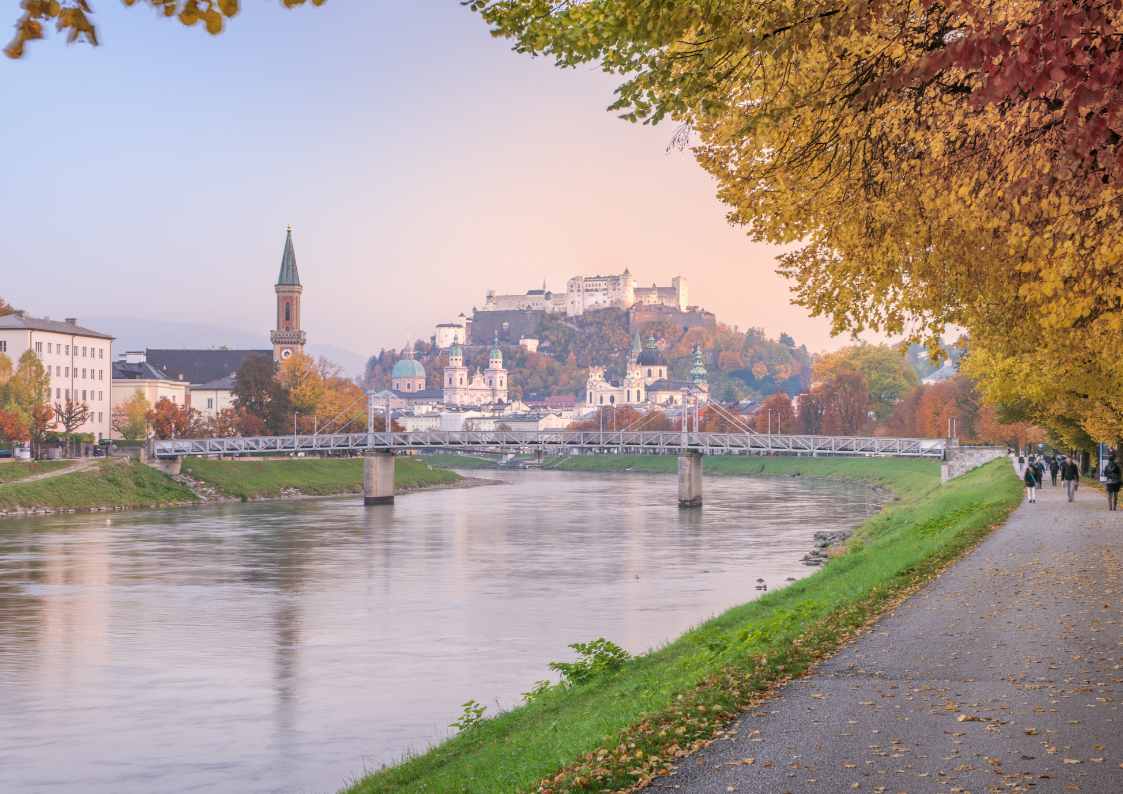 Visiting Salzburg in autumn is a delightful experience, as the city's historic charm and surrounding landscapes are adorned with the warm and vibrant colors of the season. Here are some recommendations for your trip to Salzburg in autumn:
Fall Foliage: Take leisurely walks through the city's parks and gardens, such as Mirabell Gardens and Hellbrunn Palace Gardens, to enjoy the stunning autumn foliage. The trees and vineyards in the surrounding countryside also create a beautiful tapestry of colors.
Salzburg Lake District: Consider exploring the nearby Salzkammergut region, also known as the Salzburg Lake District. This picturesque area boasts numerous lakes surrounded by mountains, making it an ideal destination for scenic hikes and leisurely drives.
Sound of Music Tour: If you're a fan of "The Sound of Music," embark on a guided tour to visit filming locations and immerse yourself in the story and the captivating landscapes.
Salzburg Museum and Art Galleries: Spend some time indoors exploring the rich history and culture of Salzburg at the Salzburg Museum or admire the works of Austrian and international artists at the various art galleries in the city.
Autumn Festivals: Check for local events and festivals happening during your visit. Autumn often brings cultural events, concerts, and art exhibitions to the city.
Culinary Delights: Indulge in seasonal Austrian dishes featuring pumpkins, wild mushrooms, and hearty stews. Autumn is a great time to enjoy traditional comfort foods.
Take the Untersberg Cable Car: Head up to Untersberg Mountain using the cable car for breathtaking panoramic views of the autumn landscape.
Visit the Salzburg Zoo: The zoo is open year-round, and in autumn, you can enjoy seeing the animals in a more relaxed atmosphere.
Cuddle up in Coffeehouses: Salzburg's coffeehouses are the perfect spots to relax and enjoy a warm beverage while savoring the cozy ambiance.
Enjoy Salzburg's Cultural Scene: Attend a classical concert or opera performance, as Salzburg boasts a rich musical heritage and a thriving cultural scene.
Autumn in Salzburg offers pleasant weather with mild temperatures, making it an excellent time to explore both indoor and outdoor attractions. Remember to bring layers and comfortable footwear for exploring the city on foot.
Overall, Salzburg in autumn promises a captivating blend of cultural experiences, natural beauty, and warm hospitality, making it an unforgettable destination for your seasonal getaway.
Winter
Visiting Salzburg in winter is a magical experience, as the city transforms into a winter wonderland with its historic charm and picturesque surroundings. Here are some recommendations for your trip to Salzburg in winter:
Winter Markets: Salzburg is famous for its winter markets, which are among the most charming in Europe. The main market is held in the Old Town (Altstadt) in front of the Salzburg Cathedral, but there are several other smaller markets scattered throughout the city. Enjoy the festive atmosphere, shop for traditional crafts, and savor delicious Austrian treats like roasted chestnuts and gingerbread cookies.
Hohensalzburg Fortress: Take a ride on the funicular to the Hohensalzburg Fortress, which looks even more stunning against the snowy backdrop. The fortress offers breathtaking views of the snow-covered city and surrounding Alps.
Winter Sports: If you enjoy winter sports, you're in for a treat. Salzburg is surrounded by ski resorts and winter sports destinations. Some popular options nearby include Flachau, Obertauern, and Schladming. Whether you're a seasoned skier or a beginner, there are slopes and trails suitable for all levels.
Mozart Week: If your visit coincides with the end of January or early February, you might catch the Mozart Week, a festival dedicated to celebrating the musical genius of Wolfgang Amadeus Mozart. Enjoy concerts, operas, and other performances honoring the city's most famous composer.
Thermal Baths: Warm up and relax in one of the nearby thermal baths or spas. The warm waters provide a perfect respite from the cold weather and an opportunity to unwind.
Ice Skating: Lace up your skates and head to the ice rinks set up around the city, such as Mozartplatz or Volksgarten, for some fun ice-skating.
Culinary Delights: Winter is an excellent time to enjoy hearty Austrian dishes, such as goulash, dumplings, and roasted meats. Warm up with a cup of hot chocolate or mulled wine at one of the cozy cafés or restaurants.
Remember to dress warmly, as winter temperatures in Salzburg can be quite cold, especially in December and January. Don't forget to pack layers, a good winter coat, hats, gloves, and sturdy footwear.
Embrace the charm of the winter season and immerse yourself in the festive atmosphere during your visit to Salzburg in winter. It's a truly special time to explore this beautiful city.
Overall, exploring a city during different seasons allows you to witness its dynamic nature, experience a variety of activities and events, and appreciate its beauty from various perspectives. Whether it's the changing scenery, seasonal festivities, or local culture, each season has something special to offer.
(Visited 3 times, 1 visits today)