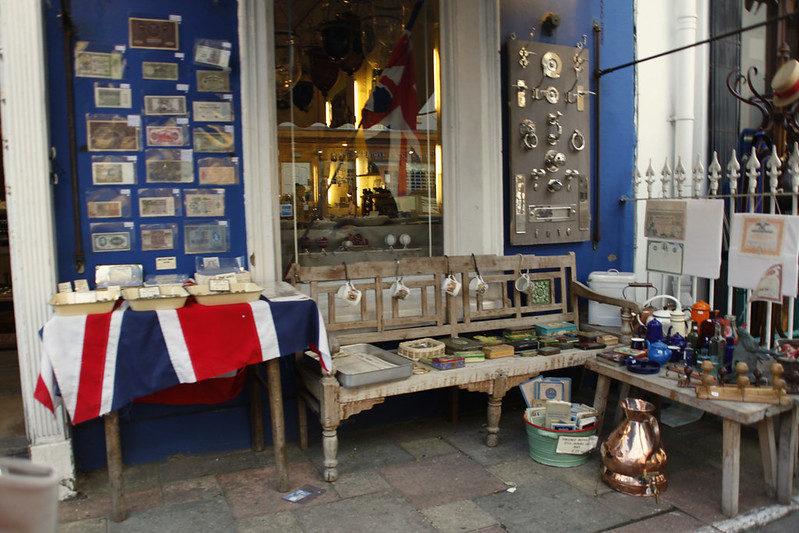 London has a lot of busy markets that locals and tourists both enjoy. Not just the food; the souvenirs and the trinkets that are sprawled all around the area make it a treasure trove of finding something even the thriftiest person would fancy. Maybe one we are most familiar with is the Portobello Market.
Portobello is easily accessible from Notting Hill Gate, Ladbroke Grove and Westbourne Park tube stations and by bus routes servicing Ladbroke Grove and Notting Hill Gate. And yes, Portobello road is where most of the movie Notting Hill was filmed.
The Travel Book Shop, where the character Will Thacker works still has its blue paint but is now a souvenir shop, you can see him walking from this side within 5 or 6 minutes into the film, just starting on his day and a few minutes before he meets Anna Scott.
Travel Bookshop / Notting Hill / Portobello Market
The bookshop in the movie was inspired by another bookshop around the corner, the Notting Hill bookshop, you can see this marker with that info by the door. The bookshop sells items referencing the movie, there's even masks of Anna and Will! 😀
That day, we met up with a friend I've known online years ago, Joy along with her daughter, Bea. She loves to eat, although you can't see that from her very slim figure. (She's the one in orange in the photo below, and owns Joyride.)
She had wanted to try the famous cupcakes of Hummingbird bakery which was conveniently at 133 (the travel bookshop was at 142). So off we go to see what Hummingbird has to offer.
It was almost packed when we got in, I think it was close to 12 noon – but, don't discount the fact that they are really good, locals and tourists want a bite or two.
We haven't had lunch yet so we just took out our cupcakes (I forgot now what Joy bought), although we all had. Portobello Market has a lot of restaurants and food joints but it wasn't easy picking where to eat.
And while you're here – See the 12 Places for the Best Bottomless Brunch in London 
We headed out to find a restaurant where we could have some fish and chips to stick true to the English cuisine. We ended up at Earl of Lonsdale, a laid-back tavern serving beers as a pub would along with some good starters as soup, bread and cheese; sharers you can choose from, as chicken strips, squid rings, onion rings, and salad, to a variety of nachos.
Main dishes were a mixture of English and bits of Italian – steak pie, lamb or chicken pies, bangers and mash, macaroni and cheese to name a few. They also serve burgers and hotdogs, grilled chicken and steak, some seafood meals, sandwiches, and salads. Desserts listed were 3: belgian waffles, sticky toffee pudding, and organic raspberry chocolate brownie – none of which we were able to try for lack of time. :/ But, we did have the cupcakes!
Little Foodie
Meet Joy's pretty and wacky daughter. I knew her from when she was a baby, seeing her on magazine covers and inside pages. It was my first time to meet  her and yet, I kept laughing at her witty antics, I also kept wondering how she could be very loud (based on how her mom delivers stories) – I was surprised how soft-spoken and reserved she was although she'd pull some goofy stuff when you least expect it. Most of all, she is random like me, definitely had so many things to say and share.
We chatted while we waited for our food. There were plenty of things to talk about, little bits of laughter and school stuff. 😀 So our food came in a reasonable amount of time, we're ready to dive in.
Bea and Joy had gammon, I believe with a side of pineapples, chips (fries) and peas. Hubby and I had hand-battered fish and chips – cod fillet served with chips and garden peas and sauce tartare. It was alright, there was no way to compare the fish flavor and crispiness since we didn't try them from another restaurant, although Joy might have, having tasted one from a nearby restaurant. The servings, as we expected were enough for two, and yeah I think we didn't finish everything since we've  had full breakfasts a few hours before. Would recommend (for now) for you to try.
And so, our Portobello Market adventure ends. Ohhh before I forget, William's blue door is the bigger one – at 280, in case you find yourself getting confused which of the two doors it would be.

—
| | |
| --- | --- |
| Pin this! (Portobello Market) | Pin this! (Portobello Market) |
(Visited 26 times, 2 visits today)