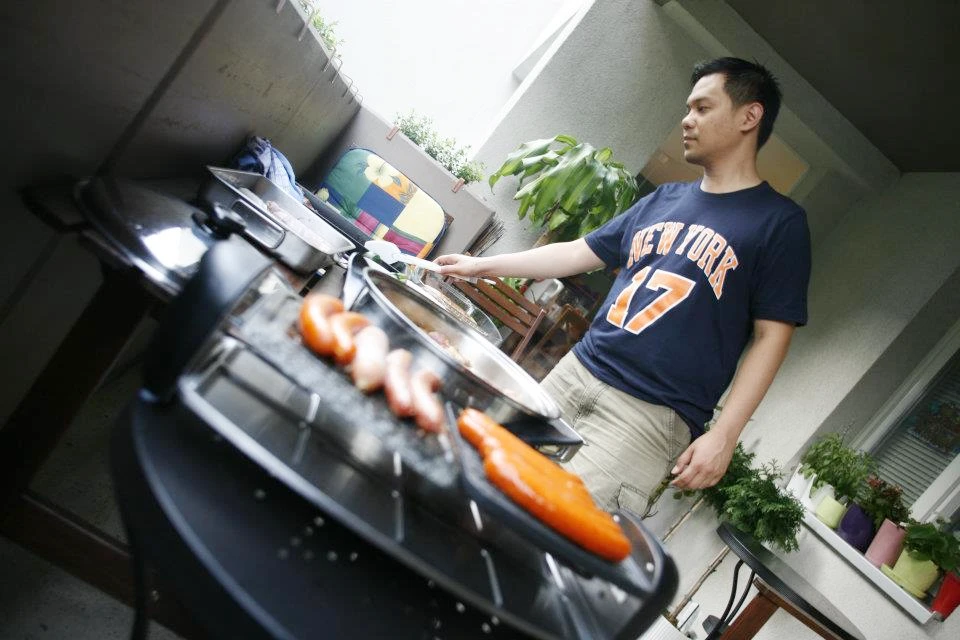 "To move, to breathe, to fly, to float, to gain all while you give, To roam the roads of lands remote, to travel is to live."
And what better way to enjoy your travels but to eat. Well, it's one of the many ways to enjoy travel, along with seeing city views, street sights, museums, trying their coffeeshops. A how-to-enjoy-list is really subjective, individually and as a family, but really, eating is one thing we like to do when away from our home city.
Our older son did say he would like to learn how to cook professionally, but because of the pandemic and other things involved, it did not come to fruition. He is now working as a café manager, but still considering to take culinary courses in the future. For now, he's learned about coffee a lot which is a very good thing! We can enjoy a good cup and of different flavours and aromas at home.
For the past two years of being at home, we got to try cooking a lot of different dishes. Some recreated from dishes we have tried during our travels, and others we saw on TV shows. Here's some of those. Please note that these are our favorites, so you might not find your own preference listed.

Austria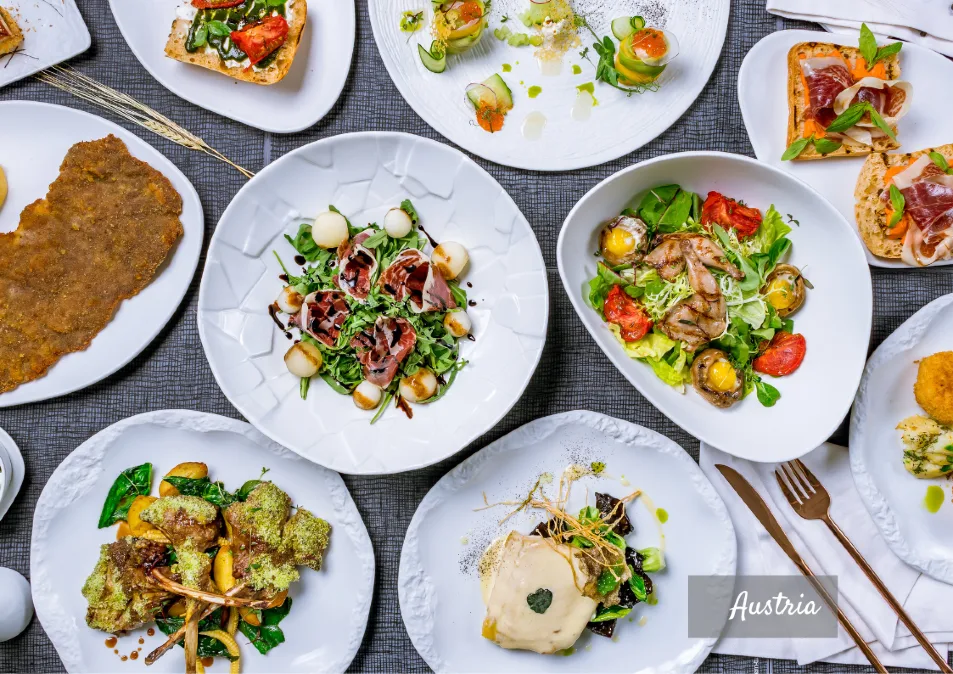 Austrian cuisine is nothing short of meat.  Beef, veal, pork, chicken, lamb, turkey and goose are regular meats one can buy in groceries and butcher's shops. But venison, as well as meats of wild boars, roe deer, brown hares, pheasants, and ducks are common game offered on restaurant menus when in season.
The most popular dishes being Tafelspitz, beef boiled in broth (soup); Gulasch, a soup or stew of meat and vegetables seasoned with paprika and other spices. There's also Saftgulasch, tender lean beef stew with lots of onions; and Stelze, roasted pork knuckle which is my go to on a lowcarb way of eating. And lastly, Wienerschnitzel or Viennese cutlet, a pan-fried veal cutlet that is regulated by law – as using a different meat requires that it should be stated on menu and called appropriately: pork schnitzel, turkey schnitzel and so on.
Meat dishes always comes with a side of either a salad, sauerkraut, bread, potato fries. There's also Knödel (dumpling), which is made from dried wheat bread, milk, eggs, and parsley and not the usual dumpling wrapped in dough. Potato salad, cucumber-yogurt salad, and a mixture of arugula, lettuce, and other greens with a choice of dressing: pumpkin seed oil and vinegar, lemon vinaigrette, or just vinegar and salt are the usual refreshing side salads.
And as stereotyped, Austria has a lot of sausages that are considered street food and are abundant around kiosks along with kebabs, box noodles (that emerged in the recent years), Leberkäsesemmel (a loaf of corned beef, pork and bacon in a bread roll), and Schnitzelsemmel (schnitzel in a bread roll).
Japan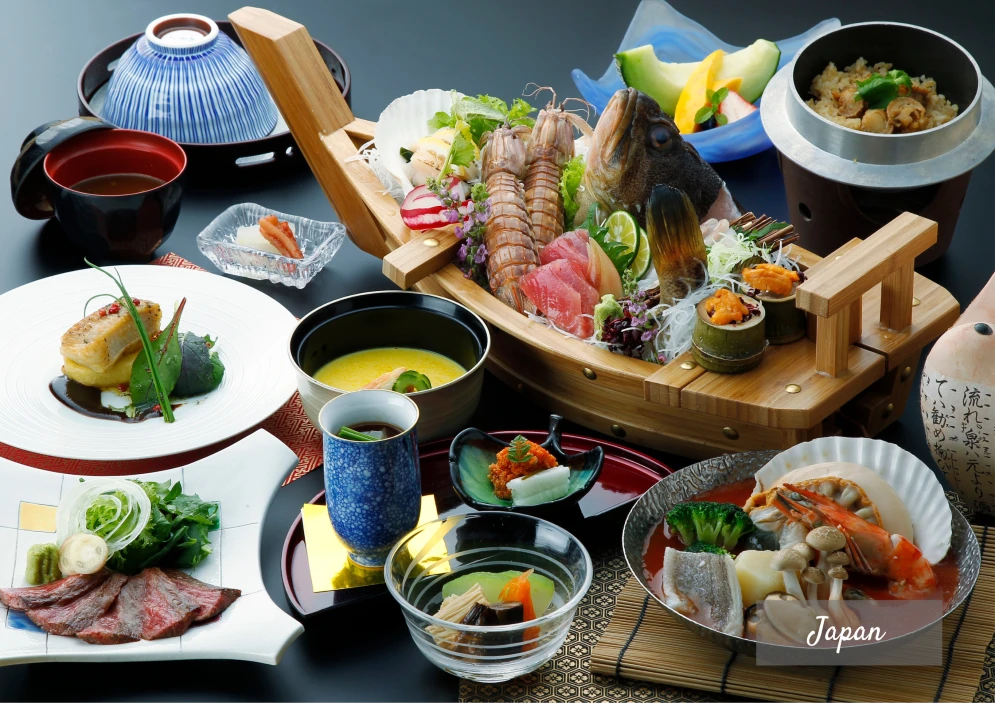 Japanese food will always be our comfort food. While we also grew up in an archipelago, and was under the Japanese regime for a few years, the Philippines' food influence mostly came from Spanish and American cuisines (also colonized the country). There's also a big Chinese influence on many Filipino dishes, the former being a trade partner long before the colonizers arrived. The most I would see similar with the Japanese though is kakigori and halo-halo…both are shaved ice desserts with different toppings (see photos on the first slide) – Kakigori has sweetened adzuki beans while halo-halo has sweetened red mung beans, which according to references are actually the same.
Some of our favorites: yakitori – grilled chicken skewers, takoyaki – octopus balls, sashimi – raw sliced fish and meat, yakiniku – grilled meat, tempura – deep-fried battered seafood, and of course, everything matcha!
Japanese cuisine was added to the UNESCO Intangible Heritage List in 2003 which says a lot about its significance.

Spain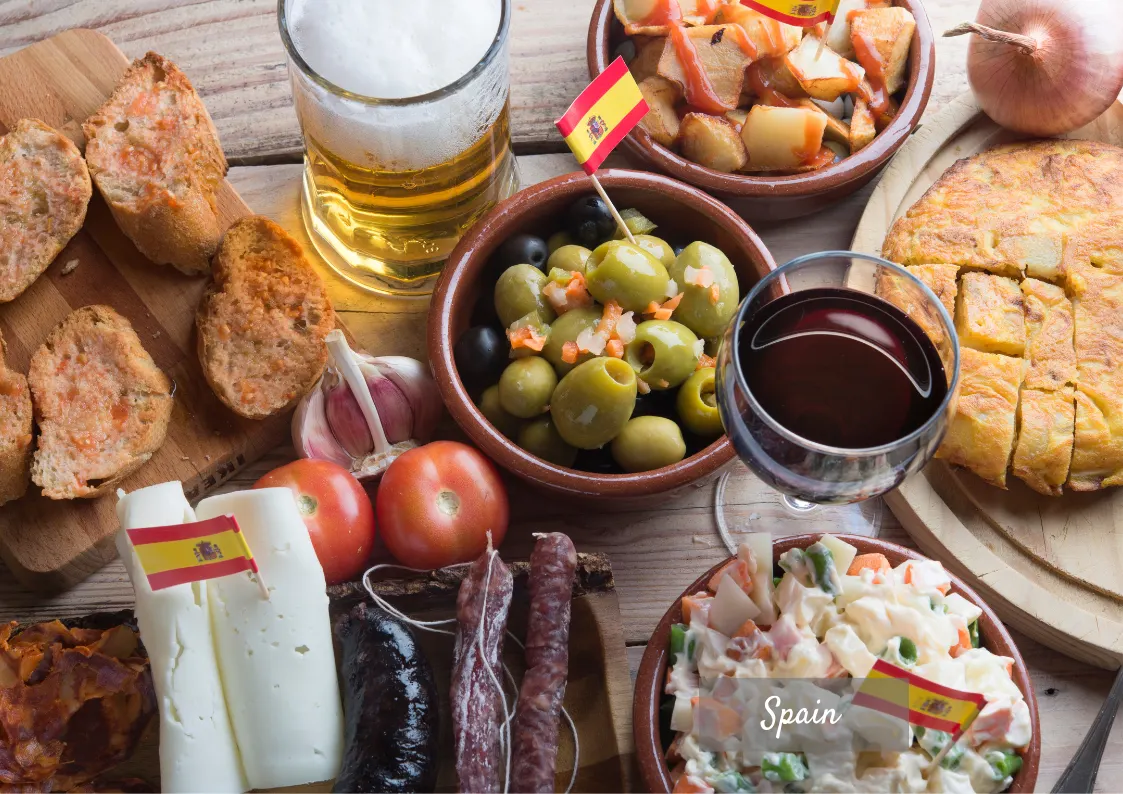 Spanish cuisine is renowned worldwide for its diverse flavors, fresh ingredients, and rich culinary traditions. Spanning various regions, each with its own distinct culinary identity, Spanish cuisine offers a wide range of dishes that reflect the country's history, geography, and cultural influences. For the 333 years that the Spaniards occupied most of the Philippines, the country has inherited a lot of words, cooking methods, and traditions that evolved to become its own.
Tapas, for one, are appetizers or snacks in Spain but is cured meat in the Philippines. Adobo in Spain, is the method of marinating meat in a sauce that enhances its flavor but in the Philippines, adobo is a meat dish (more on this later).
In northern Spain, the Basque region is famous for its pintxos, a variation of tapas characterized by bite-sized snacks served on small pieces of bread and often held together with toothpicks. Basque cuisine is also known for its world-class seafood, hearty stews like bacalao al pil-pil (codfish in garlic and olive oil), and indulgent desserts like gâteau Basque.
In Catalonia, you'll find dishes like pa amb tomàquet (bread rubbed with ripe tomatoes and drizzled with olive oil), fideuà (a seafood dish similar to paella but made with short noodles), and crema catalana (a creamy custard dessert with caramelized sugar on top).
Spanish cuisine also boasts a wide variety of cured meats, such as jamón ibérico (Iberian ham) and chorizo. These flavorful meats are often enjoyed on their own or incorporated into dishes like fabada asturiana, a hearty bean stew from the region of Asturias.
To complement the culinary delights, Spain is renowned for its wines, such as Rioja, Ribera del Duero, and Priorat. Sherry and Cava (Spanish sparkling wine) also hold a special place in Spanish wine culture.
We have many to thank the Spaniards for regarding food. They were the first to add sugar to chocolate to remove its natural bitterness. And a global spice route from Manila in the Philippines (Asia) to Seville in Spain (Europe), via Acapulco in Mexico (North America) was created when navigator Juan Sebastian Elcano successfully circumnavigated the world. Spanish cuisine is flavorful and colorful, they aren't short of herbs and spices, and vegetables grown locally.
For our favorites: Paella seems to be the most famous Spanish dish, but we like the Paella de marisco (seafood paella) that has seafood instead of the usual rabbit, chicken or duck meat in Paella valenciana.
If you get the chance, try these:
Paella: a rice dish with seafood, chicken, or vegetables that is cooked with saffron and paprika.
Tapas: small plates of food that are typically served with drinks, such as olives, cheese, and cured meats.
Churros: fried dough pastry that is often served with chocolate sauce for dipping.
Jamón ibérico: a type of cured ham made from the Iberian pig.
Gazpacho: a cold soup made with tomatoes, peppers, and cucumber.
France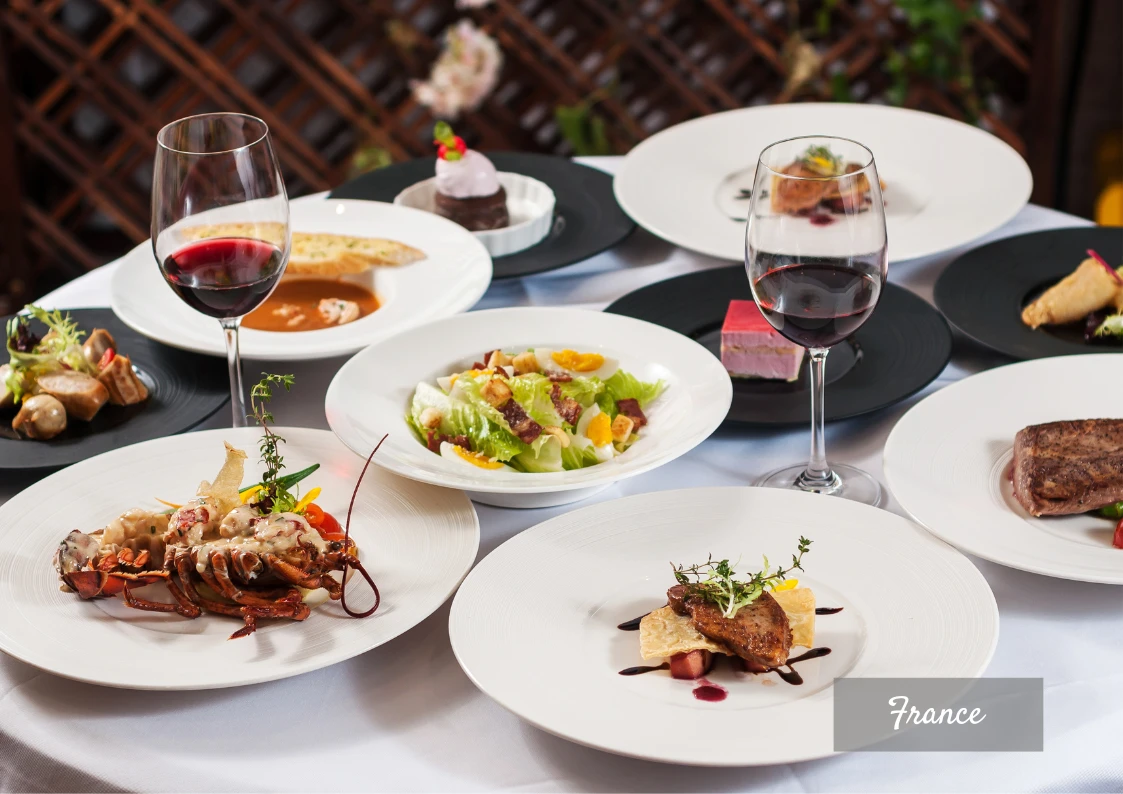 Cheese and wine? All the time! French cuisine is globally renowned for its sophistication, elegance, and emphasis on high-quality ingredients and meticulous preparation. It is characterized by rich sauces, buttery pastries, and a wide variety of cheeses.
French cuisine encompasses a broad range of regional dishes. Classics like coq au vin (chicken braised in red wine), boeuf bourguignon (beef stewed in red wine), and ratatouille (vegetable stew) showcase the depth of flavors achieved through slow cooking and careful seasoning.
In November 2010, French gastronomy listed on UNESCO's world's "intangible cultural heritage." Here's what to try from french cooking:
Croissants: flaky and buttery pastries that are a staple of French breakfasts.
Baguette: a long and crusty bread that is a symbol of French cuisine.
Coq au vin: a traditional French dish made with chicken cooked in red wine, mushrooms, and bacon.
Ratatouille: a vegetable stew made with tomatoes, zucchini, eggplant, and bell peppers.
Crème brûlée: a creamy custard dessert with a caramelized sugar top.
The French take great pride in their pastries and bread. The iconic croissant, pain au chocolat (chocolate croissant), and baguette are staples in French bakeries. Other well-known pastries include tarte tatin (caramelized upside-down apple tart) and crème brûlée (burnt cream).
Cheese is an integral part of French cuisine, with hundreds of varieties produced throughout the country. From creamy Camembert to pungent Roquefort and nutty Comté, each region boasts its own unique cheeses.
French cuisine also values fresh produce, and vegetables are often prepared with care. Salade niçoise, a composed salad with tuna, anchovies, and olives, and ratatouille are popular examples.

Singapore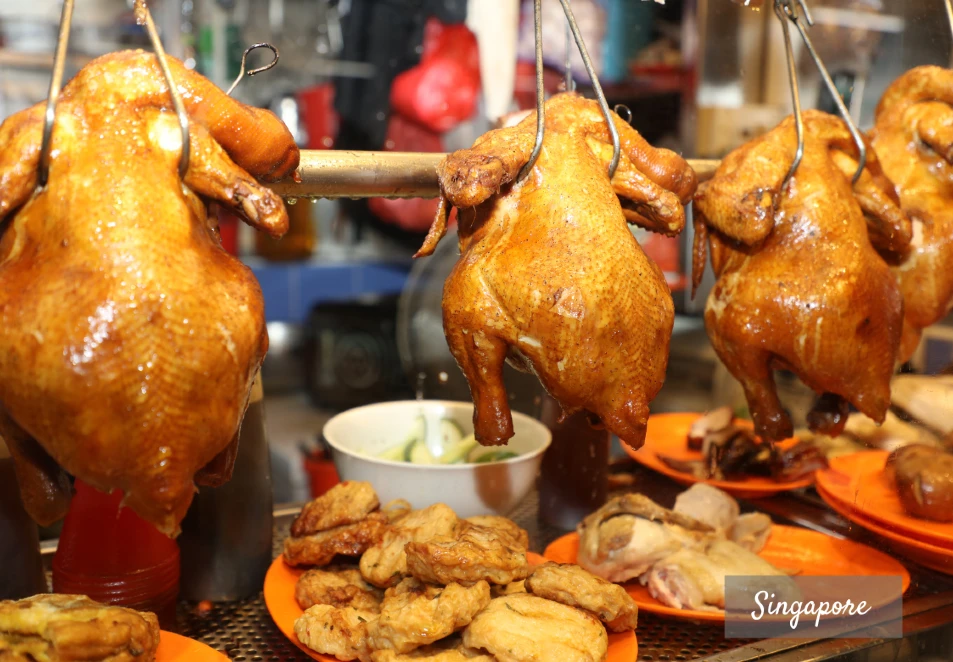 Singapore is hubby's second home…or third, depending which year if you ask him. He loves spicy food and can tolerate many levels of it. The kids somehow got that from him, thank goodness! As I burn my tongue easily with the smallest bit of chili. Singaporean cuisine is a blend of diverse culinary traditions influenced by the country's multicultural population, which includes Chinese, Malay, Indian, and Peranakan (Straits Chinese) communities. The result is a vibrant and flavorful culinary scene.
The cuisine also offers a wide array of street food. Satay, skewered and grilled meat served with peanut sauce, is a popular street food delicacy. Chili crab, black pepper crab, and salted egg crab are delectable seafood dishes enjoyed by locals and tourists alike. Here are some that we recommend for you to try:
Hainanese chicken rice: poached chicken served with fragrant rice cooked in chicken broth, chili sauce, and soy sauce.
Laksa: a spicy noodle soup that is made with coconut milk and seafood or chicken.
Char kway teow: stir-fried rice noodles with soy sauce, chili, shrimp, and Chinese sausage.
Chili crab: a sweet and spicy crab dish that is cooked with tomato sauce and chili paste.
Satay: skewered and grilled meat (usually chicken or beef) served with peanut sauce.
Singaporean cuisine is known for its bold flavors, with dishes often incorporating spices, herbs, and condiments such as soy sauce, chili, lemongrass, and belacan (shrimp paste). The country's hawker centers and food courts are popular destinations, offering a wide range of affordable and delicious dishes representing the multicultural tapestry of Singapore.
Italy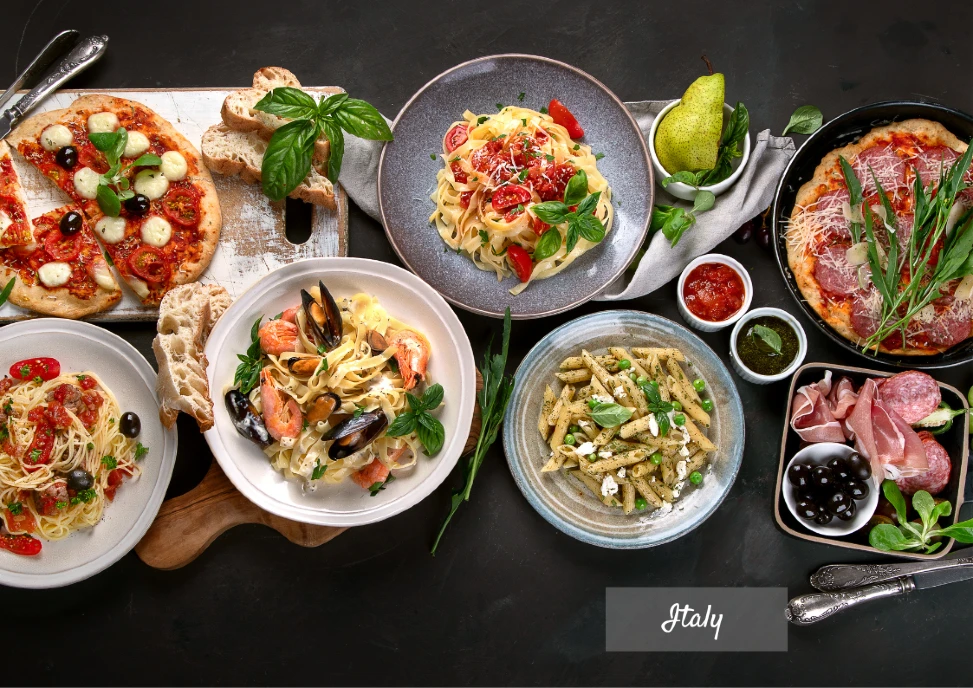 "Buon cibo. Buon vino. Buon amici." literally translates to "Good food. Good wine. Good friends." Life in Italy is about experiencing the pasta-bilities. Italians are known for their zest and love of life, they are welcoming and accepting but pineapples on pizza would something they would not agree with. I recently asked some friends over lunch about it and they went no, no, no, no while shaking their heads.
Sure, pizza and pasta everyday is way too high-carb for an everyday diet, but Italy also has a lot of yummy fish, other seafood, and meat dishes. It's of course home to the most cheese varieties in the world.
We also have to thank the Italians for the very first espresso machine, and for bringing Coffee and Café culture to the world. As history puts it, the first coffee house in Europe was in Venice's St.Mark's square in 1647.
—
For our favorites: Spaghetti allo scoglio (reef spaghetti) is seafood pasta with a lot of variants: spaghetti ai frutti di mare, spaghetti alla pescatora, and most of us are familiar with, spaghetti alla marinara which were named depending on the seafood in the mix. And while not a variant of allo scoglio, Spaghetti alle vongole, with clams, is one of our favorites.
Swordfish is not something you can see or have in Vienna but is a usual fare on Italian tables, and I would have it any day if it's on the menu.
If you get to visit Italy, look for the very first pizza restaurant in Naples, get a taste of history! Neapolitan pizza-making was included on UNESCO's list of intangible cultural heritage in 2017. We each have preferences for our pizza toppings, but really, any pizza you would offer us is more than alright! Had we the capacity, we would open a restaurant serving Italian dishes or a café serving different beans from all-over the world. For now, playing a game like that would suffice, like this pizza-café game that seems easy but as it would, running a restaurant isn't so.
Greece
My love for Greece goes beyond mythology. Greek cuisine is timeless. Founded on the triad of wheat, olive oil, and wine, Greek dishes have a lot of meat which is mostly pork, poultry, veal and beef, lamb, rabbit, and goat along with cheeses, lemon juice, herbs, olives, and of course, yogurt. Greek cuisine is renowned for its fresh ingredients, vibrant flavors, and the emphasis it places on simplicity and wholesome cooking. Drawing from its Mediterranean location, Greek cuisine features a rich variety of dishes that showcase the country's agricultural heritage and culinary traditions. Here's the most known of Greek dishes that we also love:
Moussaka: a traditional Greek dish made with layers of eggplant, potatoes, minced meat, and béchamel sauce.
Souvlaki: grilled meat on a skewer, usually served with pita bread, tzatziki sauce, and fresh vegetables.
Feta cheese: a crumbly and tangy cheese that is commonly used in Greek salads and other dishes.
Baklava: a sweet pastry made with layers of phyllo dough, nuts, and honey syrup.
Tzatziki: a refreshing yogurt and cucumber dip that is commonly served as a side dish or a topping for souvlaki.
Seafood plays a prominent role in Greek cuisine due to the country's extensive coastline. Grilled whole fish, such as sea bream or sea bass, is a popular choice. Octopus, often marinated and then grilled or stewed, is another delicacy.
Greek desserts are renowned for their indulgence and sweetness. Baklava (see above) and Loukoumades, small fried dough balls soaked in honey and sprinkled with cinnamon, are also a popular treat.
Hawaii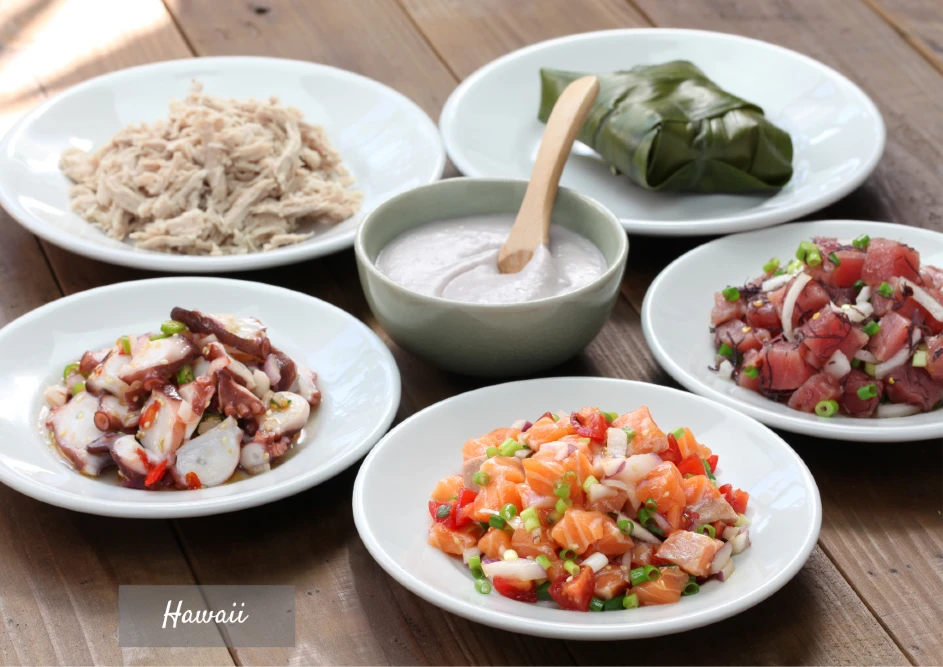 Hawaiian cuisine reflects the diverse cultural influences present in the Hawaiian Islands, blending traditional Polynesian flavors with contributions from various immigrant communities. It features a vibrant combination of fresh ingredients, tropical fruits, seafood, and unique cooking techniques. Fresh seafood plays a significant role in Hawaiian cuisine, with popular dishes such as poke, also our favorite.
Poke, which in Hawaiian means "to slice" or "cut crosswise into pieces" is diced raw fish served either as an appetizer or a main course and is one of their most popular dishes. Traditional ingredients are aku (skipjack tuna) and heʻe (octopus) and may may consist of cubed raw fish, maui onions, inamona (roasted, crushed and salted candlenut), green onions, and/or sesame oil. Modern servings now include other seasonings like soy sauce, yuzu, mayonnaise, cashew, zucchini and seaweed among others.
A poke bowl is a Hawaiian dish that typically consists of rice, raw fish, and vegetables. The dish is typically served in a bowl and can be customized with a variety of toppings and sauces.
Traditionally, poke bowls are made with raw ahi tuna that is cubed and marinated in a sauce made with soy sauce, sesame oil, and green onions. The fish is then served on top of a bed of rice, along with toppings such as avocado, seaweed, edamame, and cucumber. Other popular additions include spicy mayo, teriyaki sauce, and sriracha.
Today, poke bowls have become popular all around the world and can be found in many different variations. Some bowls may feature different types of fish, such as salmon or shrimp, while others may include tofu or other vegetarian options. The dish can be a healthy and delicious option, as it is high in protein and healthy fats, and can be customized to suit individual tastes and dietary needs. We would love to travel through food in Hawaii more, but for now we really love their fresh bowls, spam musubi, and pork hash.
South Korea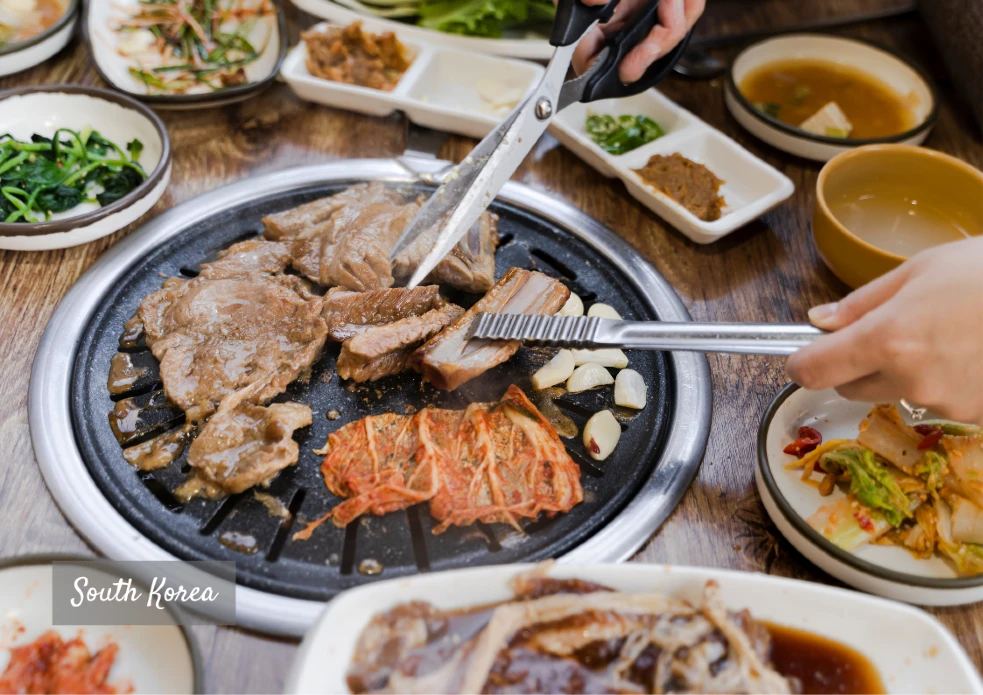 South Korean cuisine, also known as hansik, is gaining worldwide recognition for its unique flavors, balance, and emphasis on fermented ingredients. Korean meals are typically served with a variety of side dishes called banchan, providing a diverse array of tastes and textures. Korean cuisine is also known for its soups and stews. Samgyetang is a nourishing ginseng chicken soup, while doenjang jjigae is a fermented soybean paste stew with vegetables and tofu. Spicy soft tofu stew, called sundubu jjigae, is another favorite.
Barbecue holds a special place in Korean cuisine. Korean BBQ involves grilling marinated meats, such as galbi (beef short ribs) or samgyupsal (pork belly), at the table and enjoying them with various dipping sauces, lettuce wraps, and side dishes.
South Korean food leans to be lowcarb, with a lot of fermented side dishes. Here are what we're used to having, and what we've loved from their dishes:
Kimchi: a spicy and sour fermented vegetable dish that is a staple of Korean cuisine.
Bibimbap: a rice bowl dish that is topped with various vegetables, meat, and a fried egg.
Bulgogi: thinly sliced marinated beef that is grilled or stir-fried.
Jjajangmyeon: a popular Korean-Chinese dish made with noodles and a black bean sauce.
Korean Fried Chicken: crispy and juicy chicken that is fried and coated with a sweet and spicy sauce.
South Korean cuisine showcases a balance of flavors, incorporating elements of spiciness, sweetness, saltiness, and umami. It offers a diverse and exciting culinary experience, with an emphasis on communal dining and the enjoyment of a wide range of flavors and ingredients. If I'm honest, it is to Korea where we travel through food the most – lowcarb and easy to cook!
Philippines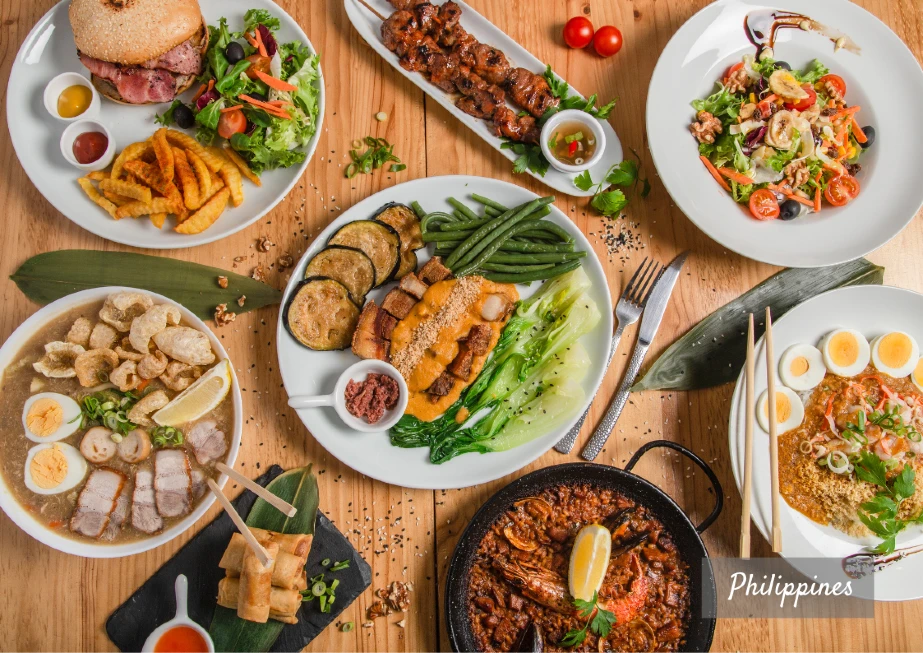 Filipino cuisine is a fusion of many flavors, a mix of many cooking methods, be regionally unique and diverse. It is a vibrant and diverse culinary tradition that reflects the country's rich cultural heritage and history. It combines influences from Malay, Chinese, Spanish, and American cuisines, resulting in a unique blend of flavors and cooking techniques.
Rice is a staple in Filipino cuisine, and many meals are centered around it. Adobo is perhaps the most iconic Filipino dish, featuring meat (usually pork or chicken) marinated in vinegar, soy sauce, garlic, and spices, then braised until tender. Sinigang is a sour soup made with tamarind or other souring agents, usually containing meat or seafood, and an assortment of vegetables. And both are our favorites.
We also have kinilaw which is raw fish in vinegar and a souring agent that's somehow close to sushi, as the rice is prepared with rice vinegar, mirin, sugar, and salt. For other Filipino dishes we love:
Lumpia: a Filipino version of a spring roll that is usually filled with vegetables and meat.
Palabok : noodles with a lot of toppings that include chicharon, crispy flakes, eggs and a yummy sauce.
Bangus : whether butterflied, as relleno, sinigang, milkfish is one of the fish we love the most.
Lechon: a whole roasted pig that is a staple of Filipino celebrations and special occasions.
Halo-halo: a popular Filipino dessert made with shaved ice, evaporated milk, fruits, and sweet beans.
Filipino cuisine features an abundance of seafood, owing to the country's archipelagic geography. Grilled or fried fish, shrimp, squid, and mussels are commonly enjoyed. Other notable dishes include kare-kare (oxtail stew in peanut sauce), sisig (sizzling pork face or belly), and leche flan (a caramel custard consisting of milk, sugar, and eggs).
Vietnam
Vietnamese cuisine is renowned for its fresh ingredients, vibrant flavors, and balance of textures. It is heavily influenced by its geography, with an emphasis on rice, noodles, herbs, and vegetables, as well as the skilled use of spices and sauces.
Pho is Vietnam's most famous dish, a fragrant and hearty soup made with rice noodles, aromatic herbs, and a choice of beef or chicken. Another beloved dish is banh mi, a crusty French-style baguette filled with various fillings such as grilled pork, pate, pickled vegetables, and fresh herbs. Here's what to try on their menu:
Pho: a noodle soup that is made with beef or chicken broth and flavored with spices and herbs.
Banh mi: a French-inspired sandwich that is filled with various meats, pickled vegetables, and mayonnaise.
Bun cha: a grilled pork dish that is served with vermicelli noodles, herbs, and dipping sauce.
Goi cuon: fresh spring rolls filled with pork, shrimp, or vegetables and served with peanut dipping sauce.
Banh xeo: a savory pancake that is made with rice flour, coconut milk, and filled with pork, shrimp, or vegetables.
Vietnamese cuisine also features a wide range of rice dishes, such as com tam (broken rice) served with grilled pork, egg, and fish sauce. Other notable dishes include bun cha (grilled pork with noodles), Chả giò or nem rán ( fried spring roll), and ca kho to (caramelized fish in clay pot).
The cuisine is known for its nuanced flavors achieved through the use of ingredients like fish sauce, lemongrass, mint, cilantro, and lime. Fresh herbs and vegetables are commonly used as accompaniments or garnishes, providing a balance of flavors and textures.
We love to try any other dishes, but for now, these are what comprises our list. Whenever we travel, we see to it that we try what food the city, town, or country is famous for. And if we can, we recreate them when we're back home – we travel through food. What's your favorite cuisine or dish? Let us know in the comments so we may try them too!
(Visited 41 times, 1 visits today)