While travelling is not as restricted as it did during the first lockdowns, we haven't been out of the country since March of 2020. The farthest we've been is to a small town 20+ km away, called Laxenburg. We also took time to explore our home city, Vienna, on days that we were not on lockdowns (very carefully too).
By this year, we were able to go on a day-cruise, some days at lower Austria, and Bratislava on short trips. And while I miss longer travel time and farther cities, I will have to settle for anywhere near.
I've had this article on drafts since last year's autumn, having participated in a tag from friends showing cities we love (or travelled to). This is a compilation of the cities I chose (not in order of preference though).
1. Munich
Laid back and friendly are the two words that I would use to best describe Munich. It's a city alright, but it's not buzzing with busyness, you can go slow to the famous spots, even to the city center.
Munich is a fantastic choice for autumn travel. The city is known for its beautiful parks, such as the English Garden and Nymphenburg Palace Park, which are stunning when the leaves change color in the fall. Additionally, you can experience Oktoberfest in September and early October, which is one of the world's largest beer festivals. Munich is also a gateway to the Bavarian Alps, offering opportunities for hiking and enjoying the crisp autumn air.
2. Frankfurt
Germany's financial hub, Frankfurt is not only big from when the moment you step foot on its airport. It feels intimidating but it's actually a joy to walk around.
Frankfurt is a modern and cosmopolitan city with a mix of historic and contemporary attractions. In the autumn, you can explore the city's museums, such as the Städel Museum and the Senckenberg Natural History Museum, which are great indoor activities when the weather gets cooler. The surrounding countryside in Hesse also offers beautiful landscapes for hiking and enjoying autumn foliage.
3. Florence
Florence is a cultural gem and an excellent destination for art and history lovers. In autumn, you can explore the city's iconic landmarks, including the Uffizi Gallery, Florence Cathedral (Duomo), and the beautiful Boboli Gardens. The weather in Florence during autumn is typically mild, making it a pleasant time to stroll through the city's charming streets and enjoy Italian cuisine in outdoor cafes.
4. Rome
Rome is a beautiful destination in the autumn months. The weather is generally mild, making it pleasant for exploring the city's historic sites, such as the Colosseum, Roman Forum, and the Vatican. The fall foliage in Rome's parks, such as Villa Borghese, adds to the city's charm. You can also savor delicious Italian cuisine in cozy trattorias, and it's a great time to enjoy the local wine.
5. Venice
Venice in autumn offers a more relaxed and authentic experience compared to the summer crowds. The canals and historic buildings of Venice take on a special beauty in the autumn light. You can explore the winding streets, visit museums like the Doge's Palace, and take a gondola ride with fewer tourists around. However, be prepared for some occasional acqua alta (high water) in Venice during this season.

6. Budapest
Budapest is stunning in the autumn, with its grand architecture, thermal baths, and the picturesque Danube River. You can soak in the thermal baths like Széchenyi or Gellért to stay warm and relaxed in the cooler weather. The city's fall foliage in places like Margaret Island and the Buda Hills is a treat for nature lovers. Budapest also has a vibrant café culture, perfect for enjoying coffee and pastries as the weather cools down.
7. London
London is a vibrant and diverse city with plenty to offer in the autumn months. The weather is typically cool and crisp, perfect for exploring outdoor attractions like Hyde Park, Kew Gardens, and the Thames riverside. Autumn in London is also marked by cultural events, including theater productions in the West End and various art exhibitions. You can enjoy cozy afternoons in traditional English pubs and sample seasonal comfort foods.
8. Paris
Paris is often considered one of the most romantic cities in the world, and it takes on a special charm in the fall. The city's iconic landmarks, such as the Eiffel Tower, Louvre Museum, and Notre-Dame, are less crowded than in the summer, making it easier to enjoy them at a leisurely pace. Strolling along the Seine River, sipping coffee at Parisian cafes, and admiring the autumn foliage in parks like Luxembourg Gardens can be delightful experiences.
9. Berlin
Berlin is a dynamic and culturally rich city with a lot to offer in the autumn months. The weather is typically cool, and the changing leaves in the city's parks, like Tiergarten and Treptower Park, create a beautiful backdrop for outdoor exploration. You can visit iconic historical sites like the Berlin Wall Memorial and the Brandenburg Gate. Berlin is also known for its vibrant arts and music scenes, with many concerts, exhibitions, and events taking place during the fall.
10. Prague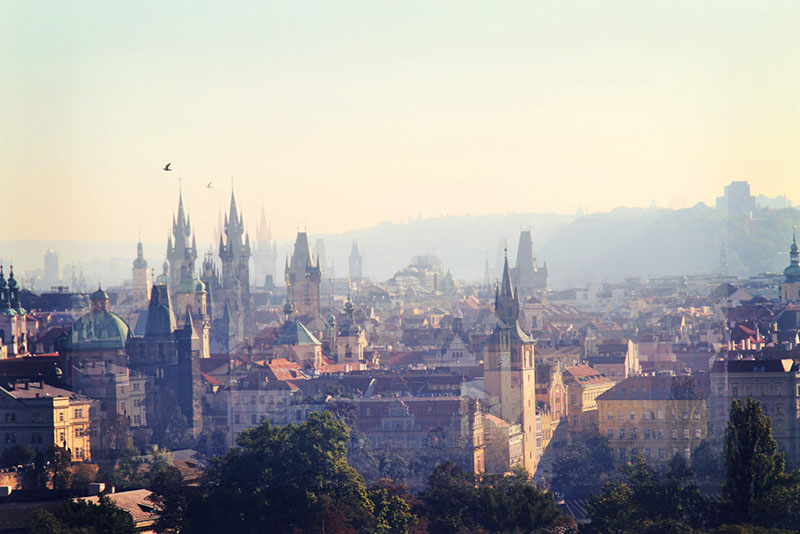 Prague is known for its stunning architecture, and it's particularly beautiful when the leaves change color in the autumn. You can explore the historic Old Town Square, Prague Castle, and Charles Bridge with fewer tourists. The city's cozy atmosphere is enhanced by the opportunity to warm up with a cup of hot mulled wine or hearty Czech cuisine. Don't miss the chance to take a leisurely cruise along the Vltava River to admire the city's skyline.
11. Vienna
Vienna is known for its grand architecture, classical music heritage, and coffeehouse culture, all of which are enjoyable in the autumn. You can explore imperial palaces like Schönbrunn and Hofburg, visit world-class museums, and attend classical concerts. Vienna's parks, particularly the Vienna Woods, offer picturesque landscapes with colorful foliage. The city's historic cafés are perfect for savoring coffee and delicious pastries in a cozy atmosphere. You can also take a detour to Salzburg if you have the time and leisure to do so!
12. Amsterdam
Amsterdam is a picturesque city with its iconic canals, historic architecture, and rich cultural heritage. Autumn is a lovely time to visit as the city's tree-lined streets and canalside pathways are adorned with golden and red leaves. You can explore world-class museums like the Rijksmuseum and Van Gogh Museum, take leisurely boat rides along the canals, and enjoy seasonal Dutch treats like poffertjes (mini pancakes) and stroopwafels.
Each of these cities has its own unique character and attractions. Ultimately, your choice among these cities may depend on your interests.
(Visited 45 times, 1 visits today)