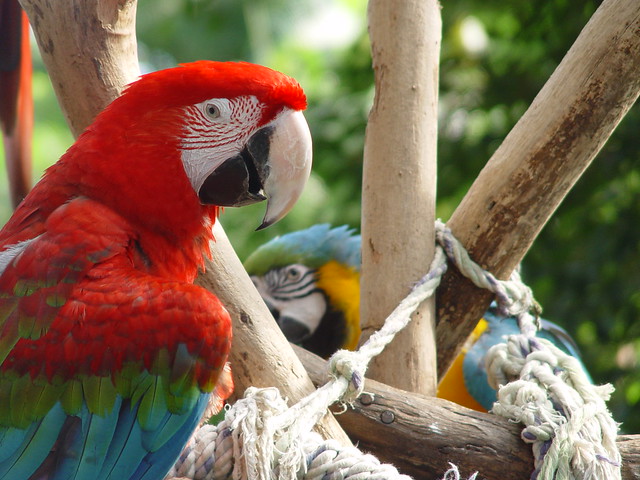 The Sentosa Nature Discovery was next on our list during our Singapore trip. I truly regret not bringing our DSLR. It was, I think, the confusion and all those thoughts that cause me to leave our camera bag on the bed as we hurry out to bring stuff to the taxi.
I could have made used well of the Canon especially with these colourful birds, but instead I made full use of our old Sony cybershot F717 and iPhones. It still turned ok somehow.
Bird Park
Only hubby was brave enough to have the birds' claws on his arm, well kids aren't allowed anyway. So the kids settled on looking and watching the colorful parrots in awe. Daddy fed some of the birds too I think you need to donate to feed them.
It seems we weren't the only ones watching. This curious beak was peeking from the roof of the garden down to us especially when I aimed the camera at him.

Surely there were colorful parrots and parakeets but one that my youngest son easily identified is this: a white hen! He's been following them around at home and he even has one for a pet. I think living in a city does have its cons…

Butterfly Park & Insect Kingdom
Another attraction that will surely fascinate kids (and kids at heart) is the Butterfly Park & Insect Kingdom. My kids, like typical kids are, are fascinated with nature, not just sea creatures, but also insects that they don't get to see often. Butterflies are rare, well in summer you'd see some of them around especially at the butterfly house. 😀
Dawty,  was the willing model for this photo series because she loves them butterflies. She's wearing a white dress – already sweating even though we've just entered the sanctuary.
The place, though small houses  stunning beauties. There are a different variety of colorful  butterflies and interesting insects. Well, there are whites too which are as stunning as their colored counterparts.
Lush Garden
When the weather goes up, the forest trail at Sentosa Nature Discovery is a welcome shed. The canopy walkway is also a good opportunity for a photoshoot. There are a lot of tropical trees among other plants, a refreshing get away from the hurly-burly of the city life.
Butterfly Park/Insect Kingdom 
51 Imbiah Road, Sentosa Island
099702, Singapore
(Visited 20 times, 1 visits today)