Buying food from a playfully decorated van with a pop-up service window on the side of the road has become quite popular. Food trucks are popping up everywhere and chefs that are leery of dropping the cash on a restaurant are joining the phenomenon of mobile restaurants instead. They are using social media to their full advantage to get their name out there and grow their list of faithful customers.
Social apps can now show the exact location of a food truck, list their daily specials, and show pictures of not only the delectable food you can purchase, but where the ingredients were bought, what the end product looks like, and the crew that will be making it and serving it. The following are 10 of the best food trucks in the U.S.
Kogi BBQ, Los Angeles, CA:
Classically trained chef Roy Choi opened his first Kogi BBQ truck in 2008, serving a Korean-Mexican combination of food. His signature dish is a taco made with beef short rib meat and drenched in his special sauce comprised of 21 ingredients. An empire in the making, Chef Choi now has five Kogi BBQ trucks and four restaurants.
GastroPod, Miami, FL:
This polished 1962 Airstream pod has been parked on the streets of Miami since 2009. Customers are loyal to its unique fusion food items, including banh mi pork tacos, shitake flan, and its famous Mo' Better Burger, which is a mix of sirloin, brisket, and short ribs, with a poached egg on top.
Lardo, Portland, OR:
Chef Rick Gencarelli opened his cottage-inspired truck in 2010 and has been a staple in Portland ever since. He focuses on Italian flavors made from locally farmed ingredients.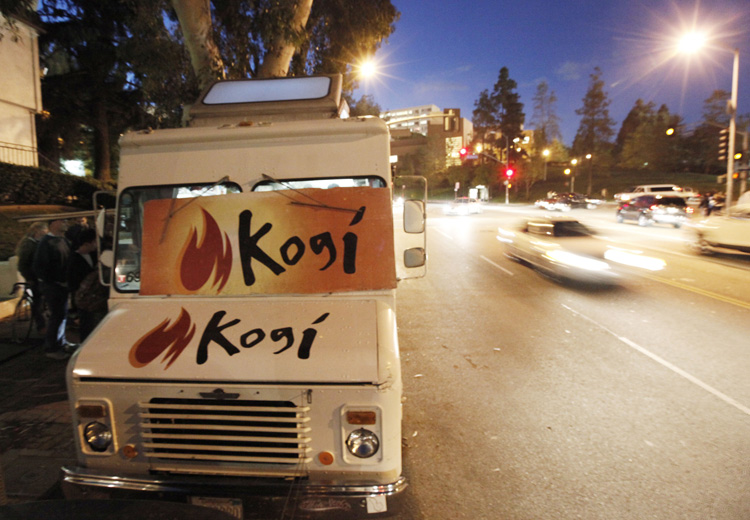 Clover Food Lab, Cambridge, MA:
MIT graduate Ayr Muir opened his first truck in 2008. College students are his prime customer base and even the mayor loves his soy B.L.T. His vegetarian food is made from locally grown ingredients. Obviously a popular food choice, he has since expanded to five trucks and two restaurants.
Fojol Brothers, Washington, D.C.:
In keeping with the local eclectic crowd of the nation's capital, this truck is a mobile culinary carnival. You can order cuisine from Volathai, Benethiopia, and Merlindia. Serving this multifarious food are the Fojol brothers, dressed in colorful costumes and donning playful alter-egos.
Schnitzel & Things, New York City:
Despite stiff competition of up to 50 specialized food trucks in N.Y.C., Schnitzel & Things won the Rookie of the Year Award for a "Vendy" in 2009. Austrian schnitzel is their main fare, which is basically hand-pounded chicken, veal, cod, and eggplant, breaded with Panko bread crumbs. Oleg Voss, the Ukraine native owner, had such great success with Schnitzel & Things, he opened a restaurant in 2011.
East Side King, Austin, TX:
This Japanese fusion food truck first opened behind a hole-in-the-wall bar in Austin in 2009. In a few short years it expanded to three trucks, each with a different, yet similar Japanese fusion menu. Anthony Bourdaine loves their beef tongue sticky buns.
Sugar Philly, Philadelphia, PA:
Started in 2010 by local college graduates, this truck is known around college campuses for their unconventional take on seasonal desserts, such as salted caramel or blueberry lemon macarons.
Street-za, Milwaukee, WI:
This truck makes pizzas to order in its 650 degree oven. The owners take suggestions for pizza creations from faithful fans on Twitter on Facebook.
Hapa SF, San Francisco, CA:
Chef William Pilz serves technically sophisticated, organic Filipino food. He is famous city-wide for his lumpia – savory pork egg rolls.
—
Shaun D. Russell Entrepreneur and owner of russellconcessions.com, a concession trailer manufacturer located in Lucedale, Mississippi.
(Visited 9 times, 1 visits today)